Purls
Click the Image.


Download free with link to our site or this page.
Click right mouse button on some point of the Image and select (by the left button) 'Save Image As...'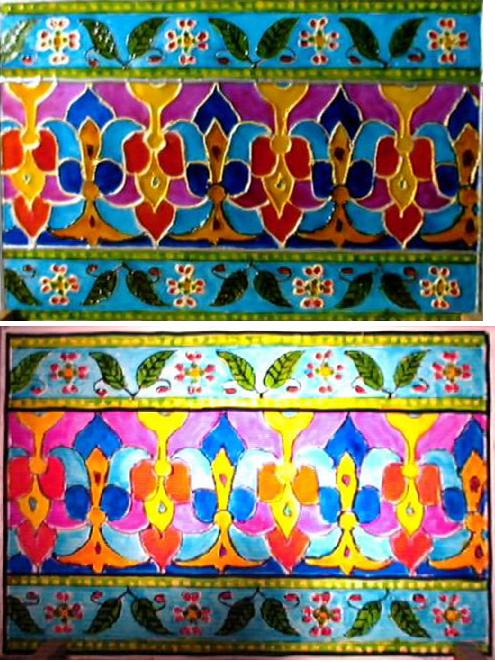 Eremenko Vitaly
Orient Ornament 2
Artificial Stained-glass on plexiglass sheet 30*20cm * 3 mm. Transparent by WACO colors. Soft Brush. Contour Paste WACO, Lead strip 3mm on borders. 2006
Artificial Stained Glass, ID: EV18


How to Prepare at home Artificial Stained Glass Winodow

Use specail transparent colors for glass.
There are solvent-based paints as Lefranc-Bourgeois Vitrail, DecorFin glass, Transparent by WACO, Marabu glasART, Hobby-Line glasmal Farbe.
Or use water-based paints by Lefranc-Bourgeois glass-tile transparent, Marabu DecorGlass, Marabu Ceramica and orthers.
Water-based paints may be fixed in oven, but you can dry work 3-7 days without oven.
Draw contours on a Paper sheet. Place it on a table under transparent base for Stained Glass Winodow - glass, perspex, plexiglass sheet etc.


Draw contours on a base with contour paste (liner) or with self-adhesive lead tape along visible lines on the paper.


In case of error, wait contour paste touch dray (20 - 30 minutes) and remove it by sharp knife.


Prepare slightly coloured water (with red or blue watercolor etc.). It need to check contours onb the base. Fill area into contour by brush or pipet with this colored water. If you see leakage of this water on the other areas outside checking contour, get water by coat and dry area. Then correct your contour.


Fill area into contour by transparent glass color.


In case of error, wait color will touch dry ands remove it by knife. Do not remove wet color - it will make your work dirty.


If you desire to make some color more light with saving its adhesion and viscosity, mix it with special colorless transparent paint - not with medium (white spirit, water etc.).


When the work finished, dry it 3-7 days (see instructiuon on paints).


If you need to expose your work outdoor, use protective colorless transparent varnish.


Your work may appear as color spots due to filling color by brush. Place and attach tracing paper on a back side of the work. It will disperse light, passed through the work.



Author: Vitaly Eremenko.
2014-06-15. www.violtan.com